After enjoying season two of Chilling Adventures of Sabrina, it is time to look forward to season three. The second season of the Netflix drama was released on April 5th, 2019 and was filled with satanic drama, a handful of new budding romances, and a whole lot of problems heading Sabrina's way. The ending of season 2 left fans rattled and eager to find out what happens next surrounding what happened with Nick Scratch and the Dark Lord.
Is the series returning for Season 3?
What's the good news? Season three has already been confirmed, as well as the fourth season! But when will it be released? What will happen? What cast members will return? Here is all that we know so far.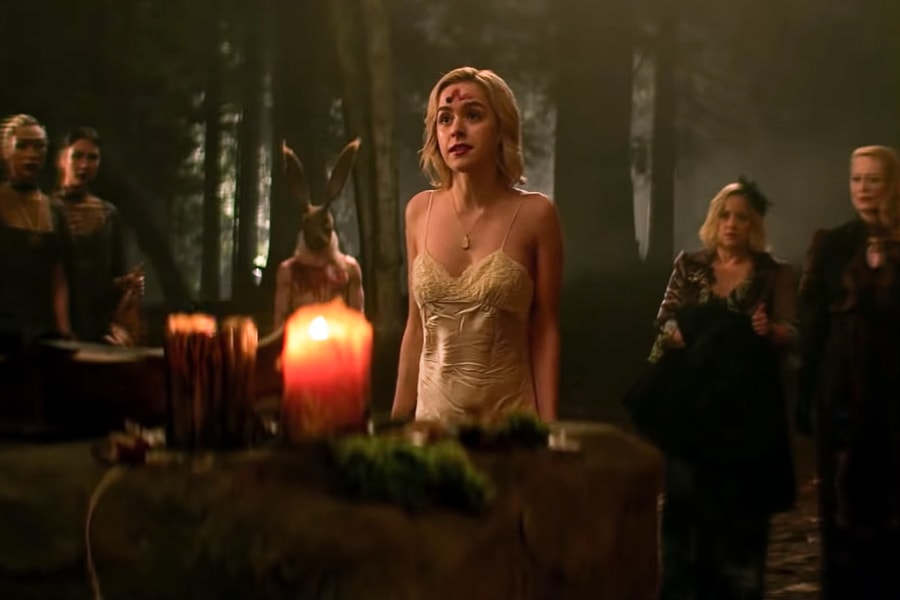 How many episodes will there be?
Netflix renewed the series for parts three and four. They ordered a batch of sixteen episodes, that will most likely be split into two parts. These two seasons will be shorter than the first two seasons.
Is there a release date?
There is no release date currently set for part three of Sabrina. Although the production is set to resume at some point this month, April 2019, which would entail the seasons would be filmed back to back until fall 2019.
If the show follows the same schedule as the previous seasons, we could possibly end up with a late 2019 release date for season three, and a spring release for season four.
Who's returning, who's leaving?
Other than the obvious Kiernan Shipka, who plays our favorite daughter of Satan, Sabrina Spellman other favorite characters will be returning as well. Ambrose (Chance Perdomo), Zelda (Miranda Otto), Hilda (Lucy Davis), Harvey (Ross Lynch), Prudence (Tati Gabrielle), Roz (Jaz Sinclair) and Theo (Lachlan Watson).
Despite what happened at the end of Season two, Father Blackwood (Richard Coyle) should be returning at some point. Gavin Leatherwood will also likely return as Nick Scratch, as he is now a vessel for the Dark Lord.
There will also be plenty of new characters and a few more minor Riverdale actors jumping into play.
What will happen in season 3?
It is not clear if season three will pick up exactly where season two left off. Although, there are still plenty of storylines that need to be explored. Sabrina appears to have laid out a plan for the third season, as, during the last scene in season two, she makes it clear she is going to go save her boyfriend in hell.
In the final episode, the Dark Lord inhabits Nick Scratch and has returned through the gates of hell. (Sigh)
Season three will most likely explore Sabrina freeing Nick and bringing him back to Greendale. We will also get to see Miss Wardwell, who now has her body back after having it as Satan's vessel for the past two seasons. She will no doubt learn what happened to her and learn about the death of her beloved fiance, Adam.
Prudence and Ambrose will primarily be focussing on locating Father Blackwood and the twins.
Zelda is now the high priestess as the Dark Lord is no longer the ruler of hell. The coven suggests a rebrand of the Church of Lilith. With Father Blackwood no longer the high priest, we expect a female coven to arise.
We will also have the privilege to learn more about Sabrina's parents. There is a lot to look forward to with this upcoming season.
Check out the trailer for Season 2
[youtube https://www.youtube.com/watch?v=d8dLwiT2KOo?controls=0]
Latest posts by Michaella Vanderkooi (see all)