In January it was announced that Chris Pratt, 39, popped the question and proposed to his girlfriend Katherine Schwarzenegger. The pair began dating in the summer of 2018.
How Did They Meet?
Pratt met Katherine through her mother Maria Shriver. Maria is an American journalist, who reportedly played matchmaker for the couple. Maria and Pratt knew one another through mutual friends, which inspired Maria to put him in touch with Katherine.
They were first spotted together in public on Father's Day. According to E! News, the 39-year old Pratt and the 29-year old Katherine had gone out multiple times prior to their Father's Day date. They had been talking consistently for roughly two months or so.
"Chris was taking things slow with Katherine at first, but overall he is not seeing anybody else and considers what he has with Katherine to be exclusive."
A Fresh Summer Love
The pair have spent a lot of time the past summer together. Katherine was raised Catholic while Pratt is a vocal Christian and regularly attends church in L.A., They mutually are spiritually-minded and have been spotted attending services together.
On one occasion, they brought Chris's five-year-old son, whom he shares with actress Anna Faris, and took him out for ice cream and sharing a sweet kiss.
 "They are spending every day together and Katherine has met Jack several times," a source told People. "They seem to be getting more serious. Family is very important to both of them, as well as their spirituality. She's very, very sweet and maternal and great with his son."
One Big Happy Family
It seems as though their relationship got pretty serious. In fact, the pair are getting closer to each other's families. Pratt had the chance to meet more of Katherine's family on August fifth when they had dinner at Maria's home with Katherine's brother, Patrick.
A few weeks later the couple visited Round Pond Estate winery in Napa with Chris's brother Cully and some friends before attending a gala benefiting the Christian children's charity, the Leaven.
Family Fun
The family vibes continued once fall struck, the couple was spotted trick or treating with Chris's son, Jack, his ex-wife Anna, and her boyfriend Michael Barrett.
For Thanksgiving 2018, the couple spent their first holiday together as they hung around Katherine's mother and brothers on Thanksgiving morning.
Future Plans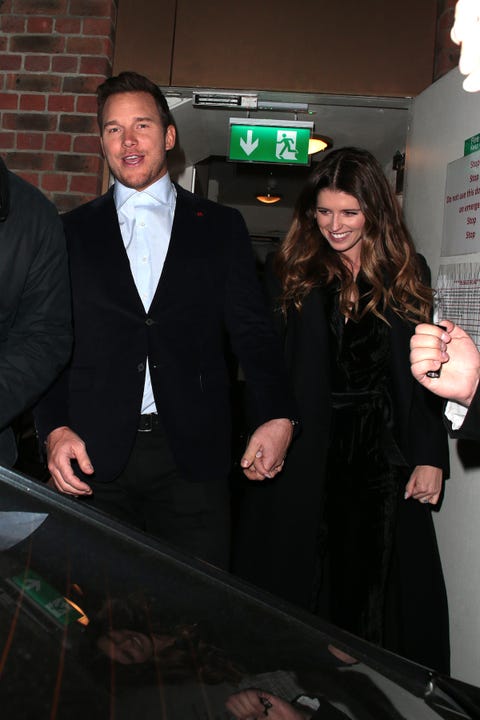 In Pratt's first interview since the pair went public with their engagement, he mentioned his hopes for the future with Katherine. In one portion, he mentioned "lots of kids."
The same week that the pair announced their engagement in January, they reportedly moved in together in a house near where Pratt's ex-wife Anna Faris lives with their six-year-old son.
The pair seems extremely happy and we cannot wait for the wedding details!!
Comment below how you feel about this quick engagement
Latest posts by Michaella Vanderkooi (see all)